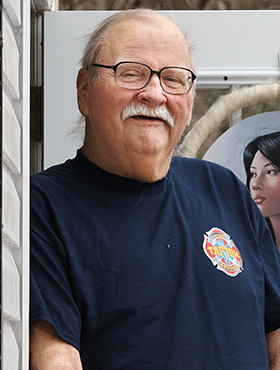 Wilmer L Shoemaker Jr.
Wilmer (Butch) L. Shoemaker, Jr., 74, of Tafton, PA, passed away at home on May 17, 2023. Born on May 4, 1949 in Allentown, PA. He was the son of the late Wilmer L. Shoemaker, Sr., and Evelyn B. (Gaugler) Shoemaker.
Butch was involved over 50 years with Fire Service with Trexlertown and Tafton Fire Companies. He loved his family very much. He was married to the late Janet (Weber) Shoemaker. Assistance of George Schimminger & Cheryl Norton, along with those in the Fire Department & around the community, for which we are grateful.
Butch is survived by his stepchildren, Sally Ann (Weber) Yons and Bill Brobst, PA; Curt Weber and wife Vickie of Bethlehem, PA; grandchildren, Melissa Ann Yons Rabenold and husband Mike of Kentucky; Jack Yons of Carbon Co. Crystal (Weber) Barket and husband Dell of Lehigh Co.; great grandchildren, Anthony and wife Tomoko of Japan and Dominic of Kentucky. Noah, Wyatt and Eva of Carbon Co., D.J. Barket of Allentown, and Gloria Barket of Lehigh Co.; great great grandchildren, Matthew, and Tyler of Japan; sister, Wilma Shoemaker Holland Hall, and husband Bill of North Carolina; brothers, Earle Shoemaker and wife Mary of Nesquehoing, PA; Paul Shoemaker of Hamburg, PA; Larry Shoemaker and wife Debbie of Ruther Glen, VA; along with cousins, nieces, nephews, Aunt Marlene and Aunt Arlene.
The family will have a private service. A memorial service will be held at the Tafton Fire Department to celebrate his life at a time still to be determined.
Family request in lieu of flowers that donations are made in Butch's honor to the Tafton Fire Department, P.O. Box 5 Tafton, PA 18464.
Arrangements are being handled by Stroyan Funeral Home, 405 W. Hartford Street, Milford, PA 18337 (www.stroyanfuneralhome.com).