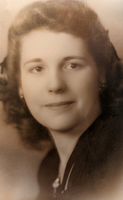 Ruth M. O'Connor
Ruth M. O'Connor, 96 of Lords Valley, PA passed away Tuesday, March 7, 2023 at home surrounded by her family. Anyone who ever met Ruth walked away knowing they had just been in the presence of a very special lady who was loved and will be missed by all. If you asked Ruth what was most important to her, she would say, "family comes first."
The daughter of the late Joseph and Matilda (Wright) Mackey she was born October 17, 1926 in Queens, NY. Ruth married James O'Connor on September 11, 1948.
Ruth leaves behind her husband of 74 years James; Ruth and Jim have 8 children. Sons Michael (Lisa) O'Connor, John (Ginny) O'Connor; daughters Patricia (Jules) Traugot, Kathleen (Jeff) DiMaio, Eileen (Chuck) Huether, Mary (Steve) Rappleyea, and daughter-in-law Amy O'Connor; and is predeceased by sons James and William O'Connor. They were blessed with 21 grandchildren and 16 great grandchildren…and counting.
A funeral mass will be at St. John Neumann Church, Lords Valley, PA on Saturday, March 11, 2023 at 11 AM with Rev. Edward Casey officiating.
Memorial donations may be made to St. Jude's Children's Hospital (www.stjude.org).
Arrangements by Stroyan Funeral Home, 405 West Harford St., Milford, PA (www.stroyanfuneralhome.com).