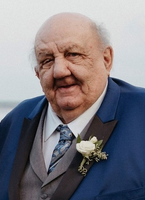 Allen J. Winters, Jr.
Allen J. Winters, Jr., 75 of Greeley, PA passed away Monday, February 27, 2023 in his home. He was a U.S. Army Vietnam Veteran and a member of the Vietnam Veterans of America. Allen retired as a truck driver and enjoyed retired life fishing, boating, hunting, and asking for 5 pounds of twenties. His greatest joys in life were his children and grandchildren. He loved to watch them grow and attend all their major life events, such as birthday parties, graduations, and weddings.
The son of the late Allen J. and. Helen V. (McArdle) Winters, he was born March 26, 1947 in Paterson, NJ.
Allen leaves behind his son Allen J. Winters III; two daughters Theresa (John) Wilmot, Colleen Winters; sister Helen Rinkel; seven grandchildren Heather (Keegan), Sarah, Tyler, Elizabeth, Scott, Jason and Mark; niece Patricia (Roger) Demarest; nephew William (Kim) Rinkel.
A viewing will be held at Stroyan Funeral Home, 405 West Harford St., Milford, PA on Friday, March 3, 2023 from 4 to 7 PM. Graveside services and burial will be held at Northern New Jersey Veterans Memorial Cemetery, Sparta, NJ with military honors on Saturday, March 4, 2023 at 10 AM.
Memorial donations may be made to the family's gofundme https://gofund.me/e2f61f1a
Arrangements by Stroyan Funeral Home, Milford, PA (www.stroyanfuneralhome.com).