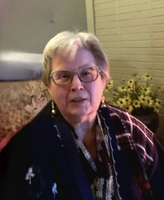 Alice Irene MacDonald
Alice Irene MacDonald, 82 of Greeley, PA passed away February 20, 2023 at Delaware Valley Skilled Nursing, Westfall Township, Pa. She was a retired waitress for Kinchley's Tavern, Ramsey, NJ. Alice was a volunteer at Pike County Senior Center, Blooming Grove Township, PA, helping with the meals on wheels program.
The daughter of the late Robert J. and Helen S. (Hollister) Watson, she was born January 2, 1941 in Paterson, NJ.
Alice is survived by two daughters Kim Rotello and her husband Steve of Greeley, PA; Joyce Guerrieri and her husband Joseph of Monroe, NY; sister Loretta Bokor of Susquehanna, Pa; four grandchildren and four great grandchildren.
Family will receive friends at Stroyan Funeral Home, 405 West Harford St., Milford, PA on Friday, February 24, 2023 from 2 to 4 PM. Funeral services will be held at the funeral home February 24, 2023 at 4 PM with Rev. Keith Raser officiating.
Memorial donations my be made to Ronald McDonald House. (www.rmhc.org).
Arrangements by Stroyan Funeral Home, Milford, PA (www.stroyanfuneralhome.com).