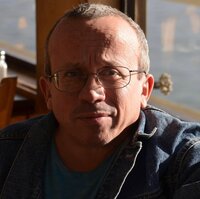 Peter H. Bond
Peter H. Bond, 61 of Lords Valley, PA passed away Monday, February 13, 2023 at home. He was a retired History Teacher for Randolph High School, Randolph, NJ.
The son of Renton and Roberta (Rey) Bond, he was born November 6, 1961 in Princeton, NJ. Peter graduated from Middlebury College in 1984 with a Bachelor's Degree in History and Brown University in 1986 with a Master's Degree in teaching. Peter is survived by six children Marcus Bond, Josephine Bond, Owen Bond, Celia Bond, Kevin Bond, Linus Bond; his mother Roberta Bond; two brothers Doug Bond, Jeffrey Bond; three sisters Marsha Melsheimer, Robin Coe, Julie Genovese.
Aside from Peter's love of teaching, he also shared his love of sports with the world by coaching his children's baseball teams, and then going on to be an umpire for many years after. In retirement Peter took up many hobbies; bird watching, gardening, photography, and even started a small hot sauce business, "Bond Fire Hot Sauce". Pete's affinity for nature and animals was also a big part of his personal endeavors, he loved caring for his two cats and always expressed his love for the great outdoors regardless of the weather.
When time permitted, Peter loved to spend time at the family cottage on the Canadian side of Lake Eerie. There would gather many family members, including his 5 siblings, 6 children, and countless nieces, nephews and cousins. Frivolous activities included badminton, croquet, swimming, eating pepperoni sticks, and singing along to a guitar or ukulele around a beachside campfire. Some knew him as "Dad", some as "Pete", many as "Mr. Bond", and a select few as "Uncle Pita Bread". He had extraordinary abilities to make everyone around him laugh with his witty humor, sometimes at his own expense.
Viewing will be held at Stroyan Funeral Home, 405 West Harford St., Milford, PA on Tuesday, February 21, 2023 from 10 AM to 12 PM. A Mass of Christian Burial will be celebrated at St. Mary's Church, Port Jervis, NY on Tuesday, February 21, 2023 at 1 PM. Burial will follow in Delaware Cemetery, Dingmans Ferry, PA.
There is a GoFundMe that will be shared to Facebook. Any donation will be greatly appreciated and will sincerely help with funeral expenses.

Arrangements by Stroyan Funeral Home, Milford, PA (www.stroyanfuneralhome.com).