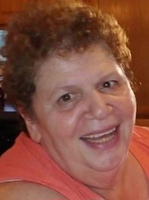 Joann Gillmore
Surrounded by her loved ones, Joann Gillmore, 64 of Mill Rift, PA passed away Monday, February 13th, 2023, at West Chester Medical Center, Valhalla, NY.
The daughter of the late Joseph and Josephine (DeRose) Parolie, she was born June 20th, 1958, in Passaic, NJ. Joann was predeceased by her brother Kenneth Parolie of Pine Bush, NY. She was raised in Suffern/ Brooklands, NY. Joann was a graduate of Suffern High School, class of 1976.
She was married to Gary F. Gillmore on February 11, 1978 in Anaheim, CA. Joann lived in Anaheim, CA for 12 years, and Mill Rift, PA for 34 years. She worked as a Quality Control Specialist at Kwikset Lock, Anaheim, CA and Sparkomatic/Altec Lansing, Milford, PA.
Joann loved living in the little town of Mill Rift "up on the hill". She was a First Responder and volunteer firefighter for many years for the Mill Rift Fire Department and also worked as a bartender at the Mill Rift Inn. Proud of her Italian heritage, Joann enjoyed cooking and baking for her family and friends. She enjoyed gardening, crafts, her weekly coffee with "the girls" and was a lover of all animals.
Joann leaves behind her husband of 45 years Gary; daughter Janette Ruzanski and her husband Gene of Shohola, PA; daughter Colette Gillmore and her partner Amer Zada of St. Albans Bay, VT; grandchildren Owen Ruzanski, Chase Ruzanski and Aurora Zada; sister June Ackerson of Cuddebackville, NY; and many loving nieces, nephews, family and friends. Joann also leaves behind her beloved dog Zena, parrot Coco, and cat Kitty-Kitty.
Cremation was private, performed at MacLennan Hall Crematorium, Milford Twp., PA. A private celebration of life service will be held at the convenience of the family.
In lieu of flowers, memorial donations may be made to the Pike County Human Society, P.O. Box 255 Milford, PA 18337.
Arrangements by Stroyan Funeral Home, 405 West Harford St., Milford, PA (www.stroyanfuneralhome.com).