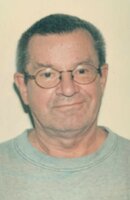 John E Vadovic
John E. Vadovic, 82 of Milford, PA passed away, Tuesday, February 14, 2023 at Bon Secours Community Hospital, Port Jervis, NY. He was a retired Social Worker for New York City Social Services who dedicated his working career to ensuring the safety and well being of those less fortunate.
The son of the late John and Anne (Orisek) Vadovic, he was born August 30, 1940 in New York City.
He was an avid reader and antique collector, but his true passion in life was his family. He did everything for those he loved. He used to play his guitar for his children when they were young and he loved to share his favorite old tv shows and movies with his grandchildren. Reading with his grandsons and "bunking" with them during sleepovers brought him tremendous joy.
John is survived by his wife of 56 years, Danielle (Gouin) Vadovic; his son, Matthew and his wife Amy of Denver, CO; Donald and his wife Amber of Shickshinny, PA; his daughter Melissa Boyle and her husband Michael of Rahway, NJ; grandchildren Jonathan Boyle, Ryan Boyle and Nolan Vadovic.
Family will receive friends at Stroyan Funeral Home, 405 West Harford St., Milford, PA on Monday, February 20, 2023 from 2 to 4 PM. A time of sharing memories will begin at 3:30 PM.
In lieu of flowers, memorial donations may be made to Ronald McDonald House (http://www.rmhc.org/), Southern Poverty Law Center (http://www.splcenter.org/), or Carter Center (http://www.cartercenter.org/).
Arrangements by Stroyan Funeral Home, Milford, PA (www.stroyanfuneralhome.com).