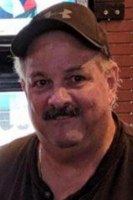 Robert Domenic Piccoline
It is with great sadness that the family of Robert Domenic Piccoline, Sr. reports his passing on Thursday, September 15, 2022, at Delaware Valley Skilled Nursing Center, Matamoras, Pennsylvania. He was 69 years old. Robert was a loving husband, father and uncle. He was a Supervisor for SA Communale and a retired member of the Local 669 in Landover, Maryland.
Robert had a love of sports and attended FDU under a basketball scholarship. He was an avid sports fan of soccer, basketball, and football. He rooted for the Giants through the bad and good times. He loved all his dogs, Bandit, Otto, Cooper, Frita, and Koda.
The son of the late Domenic and Jane (Philip) Piccoline, he was born on July 25, 1953, in Kearny, New Jersey. He was married to Susan (Bailey) Piccoline.
Robert leaves behind his loving wife, Susan Piccoline and sons, Robert D. Piccoline Jr. and Zachary James Piccoline. He always looked forward to visits with his family, and is survived by his mom, Jane Piccoline, his sisters, Barbara and Jan, his cousin, Anthony, and nieces and nephews, Justin, Cori, Jessica, Jenna, Katie, Kristin, Kyle, Kerri, Collen, Ryan, Kevin and Conor.
Cremation was private at convenience to the family at MacLennan Hall Crematorium, Milford, Pennsylvania.
Donations may be made in honor of Robert, if you wish, to your favorite charity or to Robert's favorite charity, St. Jude's (www.stjude.org). .
Arrangements were made by Stroyan Funeral Home, Inc., 405 West Harford Street, Milford, Pennsylvania 18337 (www.stroyanfuneralhome.com).
A celebration of life get together will be held at the house of John and Terry Mulvanerton, 63 Apache Dr., Manalapan NJ 07726 on Saturday, September 24, 2022 at 1:00 PM.