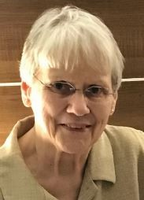 Ruth Vivian Volpato
Ruth V. Volpato of Culpeper, VA passed away on September 6, 2022, surrounded by family. Ruthie, as she was called, was 84.
She was born April 21, 1938, in upstate New York, the daughter of Leona and Neil Keane. She attended Marywood University after high school and then worked at Grumman Aircraft in Long Island, NY; her most loved career. There she lived with her sister Anne on Long Island and often reminisced about her work typing specs on the lunar module project. There she met many lifetime friends and was proud of her contribution to such an amazing project.
Ruth resided most of her adult life in Milford, PA with the love of her life Michael Volpato where they raised their beloved daughters. There she was a secretary and bank teller at the former First National Bank of Pike County and later a secretary at Luhr's Hardware.
Ruth was known for her wit and her spirited Irish charisma. She enjoyed baking, trips to Maine, a small but treasured stuffed animal collection, and telling stories about the old days.
Ruth is survived by her daughters Michelle Romero of Culpeper, VA and Jennifer Volpato-Huntsberger of Stroudsburg, PA, her son-in-law Michael Hutntsberger, and her 5 grandchildren: Alex, Jackson, and Grant Romero and Andrew and Anna Huntsberger. She adored her cat Tigger, who kept her company after Michael's death.
She was preceded in death by her husband, Michael and her sister, Anne.
Arrangements are to be held as follows: Memorial Mass Service Wednesday, September 14, 2022, 4 PM. at Precious Blood Catholic Church Culpeper VA with a reception to follow.
Friends may call at the Stroyan Funeral Home, 405 W Harford St., Milford, PA on Friday, September 15, 2022, from 2 to 4 and 7 to 9 PM.
A Mass of Christian Burial will be celebrated on Saturday, September 17, 2022, 11 AM at St. Ann's Catholic Church Shohola, PA with burial service following at St. Ann's Cemetery.
Donations may be made in her memory to the Macular Degeneration Association by visiting (Macular Degeneration Association | Research. Hope. Education. (www.macularhope.org)).
Arrangements were made by Stroyan Funeral Home, 405 W. Harford St., Milford, PA (www.stroyanfuneralhome.com).