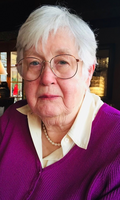 Helen Williams
Helen Williams, 84, of Hawley, Pennsylvania passed away on Wednesday, July 27, 2022 in the Hemlock Farms community she called home.

A memorial service will be held in Hemlock Farms on August 12th at 11 AM with Reverend Herb of The Church at Hemlock Farms officiating. For those who can not make it in person, a live streaming of the service can be joined via Zoom at https://us02web.zoom.us/j/8030616100.
Instead of flowers the family has asked that you make a donation to a charity of your choice.
Stroyan Funeral Home is handling the arrangements. Her remains will eventually be laid to rest beside her parents in Wales.

Helen was born in North Wales to Margaret and Hugh Williams on November 2, 1937. She came to the U.S. after earning her nursing degree in the UK. Helen worked as a head nurse at New York Hospital for 33 years. An avid traveler, Helen went on two around the world cruises. She spent her free time knitting and crocheting, always giving her beautifully crafted creations away to others. She was involved in many Hemlock Farms activities, including the Happy Hookers, Birthday, Women's, Mahjong, and Bridge Clubs. Helen was also a devoted volunteer at the community's church, senior center, and library for many years.

Helen is survived by her sister, Jean, and brother-in-law, Bill, Tsarsitalides, also of Hemlock Farms; her sister, Eva Griffiths, who resides in England; her nieces, Eleni, Margaret, and Delyth; her nephews Lyn, Dylan, and Gareth; as well as her many great nephews and nieces. She is preceded in death by her parents, Margaret and Hugh Williams, and by her sister Gwen Williams.

Helen did, and forever will, occupy a special place in our hearts.