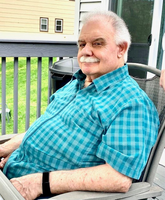 Richard Joseph DePalma
Richard Joseph DePalma, 77, of Shohola, PA passed away on Monday, August 1, 2022, at Bon Secours Community Hospital, Port Jervis, NY. He was a loving husband, father, and grandfather.
The son of the late Peter and Dorothy (Creatura) DePalma, he was born on August 8, 1944, in Bronx, NY. He was married to Lois (Wilkinson) DePalma on October 15, 1964 in Staten Island, NY.
Rich was a self employed carpenter by trade. A devoted family man that enjoyed his vacations at Lake George and spending time outdoors. He prided himself on making everyone feel like family that entered his home. An avid cook that was proud of his Italian heritage; No one could ever say they left his house hungry. Rich also enjoyed watching any history related programming. But above all, he enjoyed spoiling and spending time with his 5 grandchildren.
Rich is survived by his loving wife of 57 years, Lois DePalma; daughter, Lisa DePalma and her husband David Peters; son, Richard DePalma Jr. and grandchildren, Shana Stevens, Joseph Thomas, Nicole DePalma, Kaitlyn DePalma, and Dylan DePalma.
Services and cremation were private at convenience to the family.
Memorial donations may be made to St. Jude Children's Research Hospital (www.stjude.org) or Pike County Humane Society, PO Box 255, Milford, PA 18337
Arrangements were made by Stroyan Funeral Home, 405 West Harford Street, Milford, PA 18337 (www.stroyanfuneralhome.com).