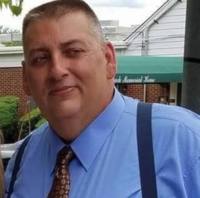 Vincent M. Flatt
Vincent M. Flatt, 55 of Dingmans Ferry, PA passed away on July 10, 2022, at Lehigh Valley Hospital, Allentown, PA. He was the Roadmaster for Delaware Township, PA. an active member of the Delaware Township Fire Department, the Treasurer of Birchwood Lakes, but most importantly a loving father, grandfather, brother & friend.
Vinnie aka Vman was known by many as a gentle giant. Despite his tough guy persona, he would go to the ends of the earth for his loved ones. He was the guy that would help you, with no questions asked, would lend an ear, and do what he could to help. Besides his daughters and grandsons, his true love was his dogs.
The son of the late Rosemary Engelhardt he was born January 22, 1967, in Dover, NJ. He was married to the late Julie Ann (Dinsmore) Flatt.
Vinnie leaves behind three daughters, Alexis Cole, Amber Flatt, and Autumn Flatt; two grandchildren, Edsel Olivero, Jr., and Avrey Olivero; sister, Deanna Janulis and three brothers, Robert Flatt, Gerald Flatt and Peter Janulis.
Friends may call at the Stroyan Funeral Home, 405 West Harford St., Milford, PA on Friday, July 15, 2022, from 4 to 8 PM. Funeral services will follow at 8 PM with Rev. Keith Raser officiating.
Burial will take place in Delaware Cemetery, Dingmans Ferry, PA on Saturday, July 16, 2022, at 10 AM.
Arrangements by Stroyan Funeral Home (www.stroyanfuneralhome.com).