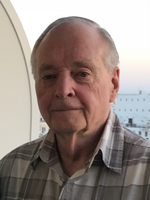 Edward William Dunn
Edward William Dunn, 83 of Milford, PA, passed away peacefully, surrounded by his family, on Sunday, July 10, 2022 at Delaware Valley Skilled Nursing and Rehabilitation Center, Westfall Township, PA. The son of the late William and Sarah (Mahn) Dunn he was born February 17, 1939 in Bronx, NY. He was married to Mary (Johnson) Dunn on May 26, 1962 in the Bronx.
Ed was a proud veteran of the U.S. Marine Corps. He joined the NYPD in 1962, and then the FDNY where he retired as a Fire Marshall. When Ed retired from FDNY he worked as a radio technician at the U.S. Military Academy at West Point, NY. Ed was a life-long Yankees fan. He enjoyed being outdoors with nature and loved to travel across the country with his family visiting the National Parks. He was a member of St. Vincent DePaul Church, Milford, PA.
Ed is survived by his beloved wife Mary of 60 years; four daughters Kathleen Hipsman and her husband Eugene, Mary Dunn, Patricia Burke and her husband Sean, Tracey Dunn; grandchildren Kyle, Kevin, Matthew, Catherine, Erin; sister-in-law Ann Harris and several nieces and nephews. He was predeceased by his brother William Dunn.
A Mass of Christian Burial will be celebrated at St. Vincent DePaul Church, 101 St. Vincent Dr., Milford, Pa on Thursday, July 14, 2022 at 10 AM with Rev. John Boyle officiating. Burial will follow in Milford Cemetery, Dingman Township, PA with military honors.
Memorial donations in Ed's memory may be made to St. Jude Children's Research Hospital (www.stjude.org).
Arrangements by Stroyan Funeral Home, 405 West Harford St., Milford, PA (www.stroyanfuneralhome.com).