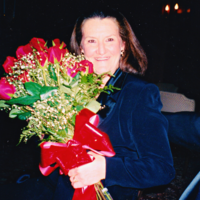 Loretta Anne Berliner
Loretta "Anne" Berliner, 83 of Lakeville, PA passed away peacefully – surrounded by her immediate family, on July 7, 2022 at home. The daughter of the late Albert and Nellie (Denson) Wagner she was born October 5, 1938 in Princess Anne, MD. She was married to Richard B. Berliner on July 7th, 1990 in Ridgebury, NY.
She was formerly a huntswoman for 15 years, for the Windy Hollow Hunt in Port Jervis, NY. During her time with "The Hunt" she enjoyed caring for her horses and hounds and socializing with all the landowners. She was an avid golfer who competed and won many championships.
Anne will be remembered as an amazing and strong woman – Wife, Mother, Friend and Nana – who loved her family and friends with her whole heart and was loved back the same. There was nothing she wouldn't do for the people (and animals) she loved. Most recently she took on the task of caring for abandoned kittens in her neighborhood. Rascal was her favorite.
Anne leaves behind her loving family: Husband, Richard B. Berliner; Son, Michael LaBounty of Spring Hope, NC; Daughter, Jacqueline Sanok of Port Jervis, NY; Brother Gary Wagner of Eden, MD, seven grandchildren, Ryan LaBounty, Megan Carey, Lauren Salter, Zachary, Taylor, Madison, and Kennedy Sanok. She was preceded in death by her precious daughter Cynthia "Cindy" Reddish in 2008.
"I carry your heart with me, I carry it in my heart. I am never without it. Anywhere I go, you go." – E.E Cummings
Words cannot describe how much she will be missed.
Cremation was private at convenience to the family at MacLennan Hall Crematorium, Milford, PA.
The family will receive friends at Stroyan Funeral Home, 405 West Harford St., Milford, PA on July 12, 2022 from 4 to 6 PM. Funeral services will follow at 6 PM at the Stroyan Funeral Home with Rev. Keith Raser officiating.
Memorial contributions may be made to C Alley Cats of Lake Wallenpaupack, 203 Sunset Hill Road, Hawley, PA www.calleycats.webs.com
Arrangements by Stroyan Funeral Home, Milford, PA (www.stroyanfuneralhome.com).