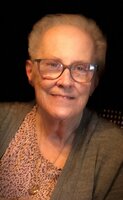 Margaret Emily Biedrzycki
It is with great sadness that the family of Margaret Emily Biedrzycki reports her passing on Monday, July 4, 2022, at home surrounded by family. She was a loving mother, and grandmother.
She was a member of the Saint Patrick's Roman Catholic Church, Milford, PA.
The daughter of the late Charles and Margaret (Olvaney) Metzger, she was born on October 4, 1941, in Newark, NJ. She was married to Edmund P. Biedrzycki who preceded her in death on October 20, 2015.
Margaret leaves behind her children, Kathleen Lamendola, Susan Montajes, and Bryan Biedrzycki and eight grandchildren, Joey, Megan, Nick, Kate, Brianna, Connor, Chris, and Shannon.
Friends may call at Stroyan Funeral Home, 405 West Harford Street, Milford, PA on July 7, 2022, from 2 to 6 PM. Funeral services will be held at the funeral home on July 7, 2022, at 6 PM with Rev. Joseph Manarchuck officiating.
Burial will take place at Graceland Memorial Park, Kenilworth, NJ of Friday, July 8, 2022.
Arrangements were made by Stroyan Funeral Home, 405 W. Harford Street, Milford, PA 18337 (www.stroyanfuenralhome.com).