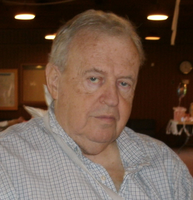 Frank Alan Finlay
It is with great sadness that the family of Frank Alan Finlay reports his passing on Monday, May 23, 2022, at home in Milford, PA. He was a loving husband, father, and grandfather.
He loved joking around and making people laugh, his personality was larger than life. He loved his family and every chance he got he would brag about them all. He was so proud of them in anything they did.
The son of the late Francis and Edith Eleanor (Cantell) Finlay, he was born on October 25, 1936, in Stoneham, MA. He was married to Margie (Petera) Finlay.
Frank leaves behind his loving wife, Margie Finlay; his wonderful son and daughter, Alan Finlay and Jane Broadfield; his beautiful stepchildren, Dawn and Frank; grandchildren, George, Lyndsey, Kelsey, Faith and Abigail. Frank was one of nine children, he loved his brothers and sisters so very much, and all his nieces and nephews -- every one of his family members were always in his heart.
Cremation was private at convenience to the family at MacLennan Hall Crematorium, Milford Twp., PA.
Arrangements were made by Stroyan funeral Home, 405 West Harford Street, Milford, PA 18337 (www.stroyanfuneralhome.com).