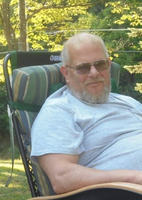 Robert Heimbrook
Robert A. Heimbrook, 68, of Shohola, PA passed away unexpectedly at home on Tuesday, April 5, 2022. He was a retired Automotive Mechanic and United States National Guard Veteran.
Often you could find him enjoying mini golf, camping, and fishing. He will be remembered for his deep love for his family, especially his granddaughters.
The son of the late Ralph and Eva (Whalen) Heimbrook, he was born on October 25, 1953, in Port Jervis, NY. He was married to Bernadine (Bucksbee) Heimbrook.
Robert leaves behind his wife, Bernadine Heimbrook; son, Jesse Heimbrook, and his wife Stephanie; granddaughters, Luna and Rayne Heimbrook and brothers, Dennis Heimbrook and his wife Carol and Richard Heimbrook and his wife Mary.
He was preceded in death by his brothers, Wayne, and Dale Heimbrook.
Cremation was private at convenience to the family at MacLennan Hall Crematorium, Milford Twp., PA.
Arrangements were made by Stroyan Funeral Home, Inc., 405 W. Harford St., Milford, PA 18337 (www.stroyanfuneralhome.com).