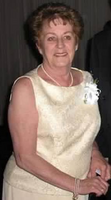 Grace Hart
Grace Patricia "Pat" Hart of Matamoras, Pennsylvania passed away on Friday, January 21, 2022. She was 88.
The daughter of the late Albert and Bridget (Bessie) Marr she was born on March 15, 1933 in Brooklyn NY. She was married to the late Frank P. Hart.
Survivors include her 5 children; Patricia Renzo and her husband, Salvatore of Massapequa, NY, Theresa Yackel and her husband Robert of Scotchtown, NY; Frank Hart and his wife Melissa of Hyde Park, NY; Daniel Hart and his wife Catherine of Jeffersonville, NY and Michael Hart and his wife Diana of Matamoras, Pa.; sister-in-law Amelia Marr of Carmel, NY; 13 grandchildren, Kristen and her husband Brian; Kenneth; Michael and his wife Jennifer; Joseph and his fiancée Bridget; Kara and her husband Matt; Kevin, Alyssa and her husband Mason; Kevin, Sean, Caroline, Bridget, Maria and Clare; six great-grandchildren; Kaitlyn, Matthew, Landon, Connor, Eli and Travis. She was predeceased by 2 sisters, Mary Lorraine Hodgkinson and Jean Marr and 2 brothers: Douglas Marr and David Marr.
Friends may call at Stroyan Funeral Home , 405 West Harford Street, Milford PA on Friday January 28, 2022 from 4:00pm-8:00pm
A Mass of Christian Burial will be celebrated at St. Joseph's Church, Matamoras, PA on Saturday, January 29, 2022 at 10AM with Rev. Joseph Manarchuk officiating. Burial will follow in Milford Cemetery, Dingman Township, PA.
In lieu of flowers, memorial donations may be made to Westfall Volunteer Ambulance Corp. P.O. Box 154, 101 Mountain Avenue, Westfall Township, PA 18336 or to a charity of one's choice.
Arrangements by Stroyan Funeral Home, Milford, PA (www.stroyanfuneralhome.com).