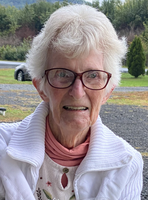 Margaret J. Scholtes
Margaret (Peg) Scholtes passed away on January 13th 2022 at the age of 94. She was born on September 28th 1927, in New York City. She moved to New Jersey where she met her late husband and high school sweetheart, Charles Scholtes in high school. They were married for 65 years, before his passing on January 16th 2017. Peg was hardworking and fiercely independent. She worked as a nurse for over 50 years and always put others before herself even when she was off the clock and with her family. Peg is survived by her 4 children, Barbara (Jay) Horton, Elizabeth (late Tim) Kunis, Peter (Nong) Scholtes & Kristen (Rusty) Thompson; and sister Carolyn Zack. She enjoyed her 13 grandchildren and 17 great-grandchildren whom she spoke about often. She will always be remembered for her commitment to her Lutheran faith, her welcoming demeanor, her homemade spaetzle for special occasions and hosting large family gatherings on the holidays where she would always make pies for dessert.
A memorial service will be held at a later date. In lieu of flowers, memorial donations may be made to Holy Trinity Lutheran Church of Dingmans Ferry, Pennsylvania.
Arrangements by Stroyan Funeral Home, 405 West Harford St., Milford, PA (www.stroyanfuneralhome.com).