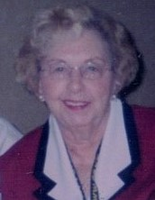 Elsie C. Bernier
Elsie C. Bernier, 88 of Dingmans Ferry, PA passed away Tuesday, January 18, 2022 at Garnet Health Medical Center, Middletown, NY. She first worked as a claims Representative for State Farm Insurance in NJ and later was owner and operator of The Print Shop, Milford, PA with her husband Albert. Elsie retired from the County of Pike, Milford, PA where she was a clerk for the Prothonotary Office and Recorder of Deeds and Wills.
Some of Elsie's hobbies were knitting, crocheting, and needlepoint. She also enjoyed ceramics and would display them throughout her home. Elsie loved baking for her family, especially during Christmas time and gardening throughout the summer.

The daughter of the late Ralph and Mary (Weaver) Peer she was born in Bloomingdale, NJ on December 20, 1933. She was married to the late Albert Bernier.
Survivors include her daughter Donna Lipari and her husband John of Dingmans Ferry, PA; step children Valerie Robles and her husband Mariano of Clayton, DE; Donna Mahler and her husband Bob of Melbourne, FL, and Albert Bernier Jr. and his wife Sue of West Caldwell, NJ; granddaughter Michelle Proscia and her husband Laurence of Pine Bush, NY and great grandson Parker.

A viewing will be held at Stroyan Funeral Home, 405 West Harford St., Milford, PA on Friday, January 21, 2022 from 11 to 2 PM. Funeral services will be held at the funeral home on Friday, January 21, 2022 at 2 PM with Rev. Keith Raser officiating. Burial will follow in Milford Cemetery, Dingman Township, PA.
Memorial donations may be made to the Alzheimer's Foundation of America (www.alzfdn.org).
Arrangements by Stroyan Funeral Home, 405 West Harford St., Milford, PA www.stroyanfuneralhome.com).