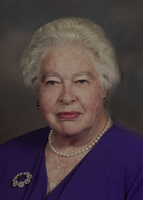 Janet Marie Myer
Janet Marie Myer, 88, of Milford, PA passed away peacefully Friday, January 7, 2022 at Delaware Valley Skilled Nursing and Rehabilitation in Matamoras, PA.
The daughter of the late Edwin Koenig and Hilda May Davenport Koenig, she was born April 22, 1933 in Port Jervis, NY. Janet was married to the late Walter H. Myer on October 19th,1957 in Milford,PA. They were married 61 years before his passing in 2019.
Janet met her husband at Picatinny Arsenal where she was employed as a Draftsman drawing bomb schematics. After marriage she retired to raise her children and manage the household.
Janet was an avid gardener and had quite an extensive vegetable garden including fresh tomatoes she absolutely loved! She extended the season through canning the likes of pickles, tomato sauce ,apple sauce, jellies and jams as well as maintaining a root cellar. Janet was a great cook and famous for her macaroons. She also grew many flowers and was quite talented at flower arrangements, always having a bouquet on the dining room table. She enjoyed the outdoors, long walks, spending everyday in the summer at the lake and most of all spending time with her immediate family, grandchildren and great-grandchildren. She also adored her pets leaving behind her beloved dog Tipper and cat Ozzie. She was an accomplished seamstress and enjoyed traveling.
Janet volunteered with The Friends of The Pike County Library in Milford, PA and the Adopt a Highway program for Keep Pennsylvania Beautiful on Raymondskill Road in Milford, PA for over 10 years. Janet was dedicated to recycling.
Janet was a pillar of strength and the glue that kept our family together.
Janet leaves behind her daughters, Eileen M. Rittenhouse and her husband Todd of Columbus, OH and Karen Sibalich and her husband Jonathon of Milford, PA; son, Christopher A. Myer and his spouse John Benoit of Boston, MA; sister Lois Vicchiarello; grandchildren Erik Cordova, Ashley Davies and her husband Joel, Victoria Sibalich and her husband Ryan Wendl, Natalia Sibalich, Ariel Rittenhouse, Torin Rittenhouse, and Carter Benoit -Myer; and great-grandchildren Dakota, Kaedon, Sophia, Penelope, Paige, Imara, Gabriel, Noah and Jayden.
Family will receive friends at Stroyan Funeral Home, 405 West Harford St., Milford, PA on February 26, 2022 from 2 to 3 PM. Funeral services will be held at the funeral home on February 26, 2022 at 3PM with Rev. Keith Raser officiating.
Memorial donations may be made to: The Humane Society of Pike County (www.pikecountyhumanesociety.org), Friends of the Pike County Library of Milford, PO Box 80, Milford, PA 18337.
Arrangements by Stroyan Funeral Home, 405 West Harford St., Milford, PA (www.stroyanfuneralhome.com).