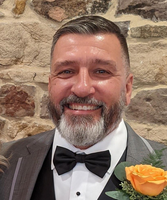 Stephen Hoffman
Stephen Hoffman, 57 of Shohola, PA passed away Wednesday, January 5, 2022 at Bon Secours Community Hospital, Port Jervis, NY. He was a retired Corrections Officer for New York State Department of Correction at Sing Sing, Ossining, NY. He was a Weapons Training Officer and a member of the CERT Team at Sing Sing. Steve was a member of Milford Bible Church, Milford, PA where he served as head Deacon and was active in various activities at the church.
Steve loved serving as Deacon at Milford Bible Church and serving others. He was always available day or night. He loved spending time with and helping his family and friends, camping with his friends, hunting with his sons, and watching Eagles Football. He used his many God given talents to help others every day of his life. There was no task he could not figure out and accomplish. Steve also gave of his wise counsel to anyone in need. Steve and his wife Ramona were able to enjoy the last 2 ½ years traveling across the US and visiting with friends from 30+ years ago. Steve's heart was bigger than most, and his impact on others was overwhelming. So many lives have been touched, and influence here on earth is truly irreplaceable to all who know and love him.
The son of William and Susan (Olock) Hoffman he was born June 22, 1964 in Lansdale, PA. He married Ramona (Wiren) Hoffman on February 6, 1988 in Sellersville, PA.
Steve leaves behind his wife Ramona; two sons, Travis Hoffman and his wife Shaina, Blakely Hoffman and his parents William and Susan Hoffman; mother in law Ruth S. Wiren; sisters in law, Becky Safford and husband John, Rachel Menin and husband Scott; brother in law R. Michael Wiren and wife Amber; and numerous nieces and nephews and cousins.
A viewing will be held at Milford Bible Church, 110 Foxcroft Dr., Milford, PA on Wednesday, January 12, 2022 from 1 to 3 PM. Funeral services will be held at Milford Bible Church on January 12, 2022 at 3 PM with Rev. Michael Lumpkin officiating, Services can be viewed at the following link: https://www.youtube.com/c/MilfordBibleChurch.
Memorial donations may be made to Benevolence Fund at Milford Bible Church.
Arrangements by Stroyan Funeral Home, 405 West Harford St., Milford, PA (www.stroyanfuneralhome.com).