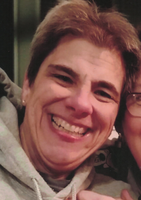 Charlotte Schof
On December 27, 2021, Charlotte A. Schof, age 62, died peacefully surrounded by her loved ones, after battling esophageal cancer. She was the only child born to the late Joseph P. and Charlotte T. (nee Reynolds) Schof.
Charlotte was a graduate of Delaware Valley (PA) High School, Penn State University and Marywood University. She retired as a senior probation officer with the Orange County (NY) probation Department after 32 years of service. Additionally, she retired after 19 years as an adjunct instructor with the CAPE program at SUNY Orange.
Charlotte is survived by her spouse of 33 years, Carol Dineen, at home. She is also survived by her "sisters" Marianne (Artie) Bregartner, Kathleen Warne, Linda (Tim) King and the late Debbie Cook, and their respective families.
In addition to her family, many friends assisted in her cancer fight with therapy dog visits, cards, rides to treatment, stuffed animals, and providing food, especially soup! For fear of omitting someone, you know who you are, and those gestures will never be forgotten. She would like to be remembered as a devoted family member, a loyal friend, and just another bozo on the Bill W bus.
A viewing will be held at Stroyan Funeral Home, 405 W. Harford St., Milford, PA on Friday, December 31, 2021 from 1 to 4 PM. A funeral service will be held at the funeral home on December 31, 2021 at 4 PM with Rev. Gary Fox officiating. Services can be joined via zoom at https://us02web.zoom.us/j/8030616100
Cremation will be private at the convenience of the family. Final interment will be in Pine Grove Cemetery, Matamoras, PA at a later date.
In lieu of flowers, please donate to the Pike County Humane Society, PO Box 255, Milford, PA 18337 or Port Jervis Humane Society, 202 US Rte 209, Port Jervis, NY 12771.
Arrangements by Stroyan Funeral Home, 405 West Harford St., Milford, PA (www.stroyanfuneralhome.com).