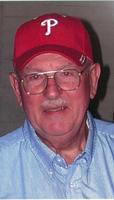 Robert A. Crouthamel
Robert A. Crouthamel, Sr., 88 of Milford, PA passed away Sunday, December 5, 2021 at home. He was a retired self-employed General Contractor, home builder, and the person folks could consistently count on when they had a need, whether that was snow plowing, electrical, plumbing, masonry, or carpentry. When he wasn't working and doing what he loved, he would vacation at the Jersey Shore, in LBI and Cape May, swimming in the ocean, sitting on the beach, and always checking out the new construction and renovations. It was truly his passion, whether work, or vacation.
The son of the late Forrest and Alverda (Thomson) Crouthamel, he was born March 14, 1933 in Perkasie, PA. Robert married Leanne (Kline) Crouthamel on April 6, 1968 in Quakertown, PA.
Survivors include his wife Leanne; six sons, Robert Alan Crouthamel, Jr and his wife Sharon of Hatfield, PA; Gerald Keith Crouthamel of Wyoming, MI; Jeffrey Allan Spangenberg of Shohola, PA; Darryl Kevin Crouthamel of Moorestown, NJ; Brian Keith Crouthamel of Tecumseh, MO; Todd Everett Crouthamel and his wife Kirstin of Quakertown, PA; sister Julia Arlene Holzerman of Perkasie, PA; many nieces, nephews, grandchildren and great grandchildren. Robert was predeceased by his brother Harold T. Crouthamel.
Family will receive friends at Stroyan Funeral Home, 405 West Harford St., Milford, PA on Saturday, December 18, 2021 from 11AM to 12:30 PM. A short service will follow.
Memorial donations in memory of Robert, in lieu of flowers, may be made to Macular Degeneration Research at BrightFocus Foundation (www.brightfocus.org).
Arrangements by Stroyan Funeral Home, 405 West Harford St., Milford, Pa (www.stroyanfuneralhome.com).