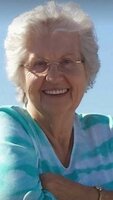 Irene Kinney
Irene Kinney, 88, of Palm Bay, FL passed away on Friday, November 5, 2021, at Marliere Hospice Care Center, New Port Richey, FL. She was a printer and machine operator at M & M Mars in Hackettstown, NJ.
The daughter of the late Henry J. and Mabel (Walters) Howey, she was born on January 1, 1933, in Stroudsburg, PA. Irene was married on April 16, 1963 to Wallace Kinney who preceded her in death on August 1, 2019.
Irene is survived by her daughter, Mable (Cookie) Seminario of Las Vegas, NV, Sharon Fazekas, Phillipsburg, NJ and Anna Stout of New Port Richey, FL; sons, Henry Travis of Lakeland, FL, Brian Travis and his wife Linda of Sellersville, PA and Wallace Kinney, Jr. and his wife Pamela, of Glasgow, KY; fifteen grandchildren; twenty-three great-grandchildren; three great-great-grandchildren, and several nieces and nephews.
Friends may call at the Stroyan Funeral Home, 405 W. Harford St., Milford, PA 18337 on Friday, November 12, 2021, from 10 AM to 12 PM. Funeral services will follow at 12 PM at the funeral home with Rev. Keith Raser officiating. Burial will follow at the Delaware Cemetery in Dingmans Ferry, PA. The family wishes to invite all attendees to a repass following services. Location will be announced at service.
Memorial donations may be made to Alzheimer's Association by visiting (https://www.alz.org/) or Dementia Society of America by visiting (https://www.dementiasociety.org/).
Arrangements were made by Stroyan Funeral Home, 405 W. Harford St., Milford, PA 18337 (www.stroyanfuneralhome.com).