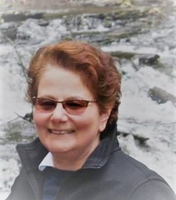 Charlene A. Guerra
Charlene Angela Guerra, age 73, died peacefully surrounded by her family on Friday, October 22, 2021 at her home in Dingmans Ferry, PA after a courageous battle with cancer.
Beloved wife and best friend of Joseph Guerra; loving sister Donna DeMatteo; sister-in-law, Patricia Sikora (Edward); nieces/nephews, Debra DePaolo (Adam), Kathleen Nese (Mario), Kevin Sikora (Jennifer), Mark Sikora; and known as "Tee-Tee" to her great-nieces/nephews, Alexis Herzick (Nate), Nicolas and Gianna Nese, Luke and Quinn DePaolo, and Emma Sikora; her aunts, Dolores Falco, Marie Guarino, Antoinette Guarino and Angela Guarino; as well as numerous cousins on both sides of the family, their spouses and families, and many friends.
She was predeceased by her parents Alfred and Marie DeMatteo; and sister, Allison DeMatteo.
Charlene was born in Boonton, New Jersey and graduated high school from Morris Catholic. She went on to graduate from Kean University (formerly Newark State College) with a degree in education and worked as an elementary school teacher for several years before changing her career path. She had a love of teaching and passion for reading. Charlene changed careers and finally retired as a Detective from the Morris County of New Jersey Prosecutors Office; Charlene was the first woman homicide detective in Morris County. She was interviewed and debuted on Women & the Badge TV Series. She participated in solving many cases throughout her 20-year career. Through her experiences as a detective, she always gave sound advice to ensure those important to her were safe. Charlene had a very exciting and fulfilling career, but retirement did not lack excitement and fulfillment. She became a caregiver to her great-nephew; took up golf with her girlfriends; travelled to the Caribbean Islands, Europe and Cape May with her beloved Joseph; read many books in her library and focused what was really important to her - family. She always had a great outlook on life and had a smile for everyone. Charlene will be deeply missed but her spirit will continue to live.
Family will receive friends at Stroyan Funeral Home, 405 West Harford St., Milford, PA on Friday, November 19, 2021 from 4 to 6 PM. A memorial service will be held at the funeral home on November 19, 2021 at 6 PM. with Rev. John Boyle officiating.
In lieu of flowers, the family requests that donations be made to St Jude Children's Research Hospital (www.stjude.org) and the Children's Cancer Fund (www.childrenscancerfund.org).
Arrangements by Stroyan Funeral Home, 405 West Harford St., Milford, PA (www.stroyanfuneralhome.com).