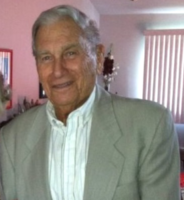 Harold D. "Duke" Reinstein
Harold "Duke" Reinstein, 94 of Lords Valley, Pa passed away October 3, 2021 at Wayne Memorial Hospital, Honesdale, PA. He was a retired bus driver for New York City Schools. Duke was a U.S. Navy WW II veteran serving as an Armed Guard and Gunner on the Merchant Marine Ship S.S. Oliver Wallcott. He was a member of the Mountain Laurel V.F.W. Post # 8612, Milford, PA and Disabled American Veterans.
The son of the late Morris and Anna (Bailen) Reinstein he was born October 27, 1926 in New York, NY. Duke was married to the late Ellen (Kolarova) Reinstein.
Survivors include daughter Patricia; sons Steven, Robert and Ronald; grandchildren Kristine, Michael, Melissa, Adam, Holly, Ronald, Jason Erik, Noah, Sean, Kenny, Jolene; great grandchildren Victoria, Olivia, Nicholas and Brian; sister Laura Reich; brother Albert Reinstein, nieces and nephews Helene Wasserman and her husband Paul, Fran Bodner and her husband Steven, Bruce Lawner, David Reinstein and Kevin Reinstein. He was predeceased by his son Alan Reinstein, brother Howard Reinstein and sister Bernice Lawner.
Graveside services and Military Honors will be held at Delaware Cemetery, Dingmans Ferry, PA on Wednesday, October 6, 2021 at 1:30 PM with Rabbi Johanan Bickhardt officiating.
Memorial donations may be made to Disabled American Veterans by visiting (https://www.dav.org).
Arrangements by Stroyan Funeral Home, 405 West Harford St., Milford, PA (www.stroyanfuneralhome.com).