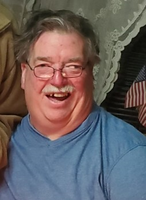 Mark Stephen Glover
Mark Stephen Glover, 63 of Milford, PA passed away Monday, September 27, 2021 at Bon Secours Community Hospital, Port Jervis, NY. He was a retired auto mechanic who had a love for music since he was a little kid. Mark was a DJ for many years known as DJ Mark Bailey. He was a parishioner of Holy Trinity Lutheran Church, Dingmans Ferry, PA. Mark was a big teddy bear with a big heart who would do anything to help anyone. He was a gentle, loyal person with a heart of gold.
The son of the late George and Joan (Kelleher) Glover, he was born August 3, 1958 in Phoenix, AZ.
Survivors include his sister Patricia Kupillas and her husband John of Milford, PA; brother William Glover and his wife Sue of North Carolina and his Fiancé Cynthia Mani.
A viewing will be held at Stroyan Funeral Home, 405 West Harford St., Milford, PA on Saturday, October 2, 2021 from 6 to 8 PM. Funeral services will be held at 8 PM with Rev. Niels Nielsen officiating. Cremation will be private at the convenience of the family.
Memorial donations in Mark's memory may be made to the Marsch Kellogg American Legion Post # 139, PO Box 144, Milford, PA 18337.
Arrangements by Stroyan Funeral Home, 405 West Harford St., Milford, PA (www.stroyanfuneralhome.com).