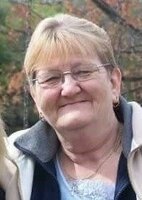 Nancy L. Homer
Nancy L. Homer, 72, of Matamoras, PA and formerly of Goshen, NY died September 21, 2021, at the home of her granddaughter in Matamoras after a long illness. Nancy was born October 7, 1948, in Maryland. She was the widow of Robert Homer, Sr., who passed in 1990.
Nancy was a former employee of the Goshen Area School District and retired working for Wendy's in Middletown as a Supervisor.
She is survived by her sons, Bob (Lynn) Homer Jr., Roger Homer and Andrew Strobeck, along with her daughter Laura (Mauro) Colonna. She leaves behind her pride and joys – her grandchildren: Cory and Tiffany Homer, Erin Homer and Chris Dickerson, Casey Homer, Roger and Alyssa Homer, Jr., Ian Homer, Brandon and Kaitlyn Homer, Rachael Homer and Dustin Dougherty, Dominic Colonna, Olivia Colonna, Elijah Strobeck and Christian Strobeck. She also leaves behind her great grandchildren, her sunshine, who referred to her as "Gigi" – Scarlett, Cameron, Chase, Scarlett, Billy, Liliana, Isabella, Gabriella, Chloe, Elijah, Carson, Jameson, and Ryleigh. She is also survived by her brothers, David Strobeck, and Russell Strobeck and sister Larese Silvernail.
She was predeceased by her husband of 25 years, Robert "Bob" Homer, sisters, Helen Cole and Ida Mae Strobeck, brothers, Tom Strobeck and John Strobeck, her mother and stepfather, Laura and Walter Silvernail of Goshen, NY.
Nancy enjoyed her time with her friends at Delaware Run at "Camp Freedom". She loved doing puzzles and connecting with old and new friends on Facebook.
Graveside services will be held at Slate Hill Cemetery, South Church St., Goshen, NY on Monday, September 27, 2021, at 11 AM, where she will join her husband for eternity.
The family wishes to thank Compassionate Care Hospice in making Nancy's last days comfortable.
Arrangements by Stroyan Funeral Home, 405 West Harford St., Milford, PA (www.stroyanfuneralhome.com).