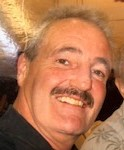 Paul Robert Peters
Paul R. Peters of Milford, PA passed away at Newton Memorial Hospital on Tuesday, August 24, 2021, surrounded by his loving family after a four-year battle with cancer.
Son of the late Bill and Stella (Patierno) Peters, he was born on April 8, 1957 in the Bronx, NY. He was a retired Refrigeration Technician for Coca Cola Company of New York.
Paul was a very loving husband, father, and grandfather. He loved to spend time with his six grandchildren.
Paul is survived by his loving wife, Patricia (Dziedzic) Peters; two sons, Paul Peters, James Peters; daughter Brittney French, Jean Gnolfo,Stephanie Torti; six beautiful grandchildren, Sofia, Aaliyah, Jocelyn, Mason, Natalie and Brayden; his aunt and uncle, Frank and Jackie Patierno; cousins, Cindy and Ron Boguazewski, Marie Patierno, Frank and Connie Zeman; brother and sister in law, Jack and Emily Dziedzic and sister in law, Chris Wynne, his beloved niece Jennifer Dziedzic and cousin Toni Tokash. He was preceded in death by his brother, James Peters.
Friends may call at Stroyan Funeral Home, 405 W. Harford St., Milford, PA on Saturday, August 28, 2021 from 2-4 and 6-8 PM. Funeral services will follow at 8 PM at the funeral home with Rev. Keith Raser officiating.
Cremation will be private and at convenience to the family at MacLennan Hall Crematorium, Milford, PA. Arrangements by Stroyan Funeral Home, Milford, PA (www.stroyanfuneralhome.com).