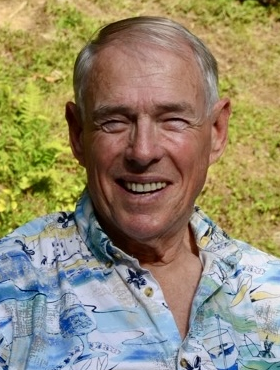 William J. Borden
William J. Borden, 82, originally from Jersey City, resident of Venice FL, passed away peacefully on Sunday, July 18, 2021, at his Lake Wallenpaupack, PA cabin.
Bill was known for his love of Villanova University, passion for playing football, his '57 Morgan, Paupack Gardens, endless outdoor projects, traveling around the world, but most of all for his devotion to his family and overall lust for life.
In his youth he graduated from St. Nicholas School, St. Peter's Prep and Villanova University. Through those years he forged lifelong friends that ultimately became part of our family. He worked as a Sales Manager for GNB Battery in Langhorne, PA and served proudly
as a reservist for the United States.
The son of the late William J. and Rose (McNeill) Borden, he was born on March 7, 1939, in Jersey City, NJ, brother to his sister Ann and his late brother Joe.
Bill leaves behind his daughters and sons-in-law, Linda and Rich Kraszewski and of Colts Neck, NJ, Diane and Andy DeMarco of Red Bank, NJ and Suzie and Ken Shatzer of Middletown, NJ along with his pride and joy, his grandchildren -Nate, Will, Zoe, Braden, Charlie, Bode and Wright.
Bill was also a devoted uncle to his nephew Joseph Borden, nieces Valerie DiGorgio, Kristine Wisowaty, Beth Ann Shewbrooks, Marie Mulvaney and MaryAnn Biegel and their spouses Jennifer Borden, Paul DiGiorgio, Bob Wisowaty, Steve Shewbrooks, John Biegel and his loved grand nieces and nephews.
Bill is now reunited with the love of his life Franny Borden.
A celebration of Bill's wonderful life will be held on Friday, July 23, 2021, at Huddy's Inn, 206 County Rd. 537, Colts Neck, NJ. All friends are welcome to pay your respects from 12-1PM and join the family for lunch immediately following from 1-3PM.
Memorial donations may be made to the American Heart Association by visiting
(https://www.heart.org/).
Arrangements were made by Stroyan Funeral Home, 405 West Harford Street, Milford, PA 18337 (www.stroyanfuneralhome.com).