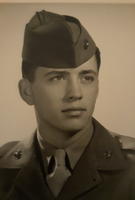 William J. Housby
William J. Housby, 88 of Milford, Pa, formally of Tranquility NJ, passed away, Tuesday, June 8, 2021 at Newton Medical Center, Newton, NJ. He was a retired Foreman for Westinghouse Elevator, New York, NY. William was a member of Milford Bible Church, Milford, PA and a U.S. Marine and Korean War veteran. First and for most he loved his Lord and Savior. He also loved his family, was an avid reader and loved spending time outside appreciating the serenity and beauty of his surroundings. He was a man of few words but his family appreciated his wisdom when he did speak.
The son of the late Archibald F. and Elizabeth (Morse) Housby he was born November 9, 1932 in Glen Ridge, NJ. He was married to June Lee (Hamilton) Housby on March 26, 1955 at the Boonton Methodist Church.
William leaves behind his high school sweetheart and beloved wife of 66 years June; children Melissa Lee Rowe, Mark William Housby, Timothy John Housby and his wife Maria and Melinda Lee Housby; grandchildren Jeffrey Schick Jr., Rebecca Lee Schick, Alicia Michelle Housby and great granddaughter Addelyn Lee Halbig. He was predeceased by his granddaughter Heather Lynn Schick, daughter-in-law Patricia Ann Housby, son-in-law Richard Herman Rowe, and sister Sally Blancke.
Burial was private at the Tranquility Cemetery, Tranquility, NJ.
Memorial services will be held 1 PM on Saturday. July 24, 2021 at the Milford Bible Church, 110 Foxcroft Dr, Milford, PA 18337.
Memorial donations may be made to the Milford Bible Church, 110 Foxcroft Dr, Milford, PA 18337 or Chosen People Ministries (www.chosenpeople.com).
Arrangements are by Stroyan Funeral Home, 405 West Harford St., Milford, PA (www.stroyanfuneralhome.com).