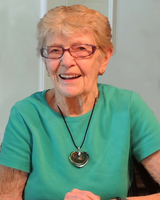 Elizabeth Murray
Elizabeth Fallon Murray nee Port
Elizabeth peacefully passed away at home on October 4th, 2019, surrounded by her loving family. She was predeceased by her husband James of 28 years, as well as her sisters, Mary Mager and Margaret Port.
She is survived by her daughter Mary and husband Robert Ardan, son James and wife Maryellen, son John and wife Barbara, son David, and son Andrew and wife Christine.
Elizabeth had ten grandchildren, Kristen and husband Kostas Klokelis, Charles Ardan and wife Kamberly, Kellie and husband Andrew Stolar, Laura Ardan, Shannon and husband Brenden Henches, Alexander Ardan, Jonathan Murray, James Murray, Samuel and William Murray, and three great-grandchildren, Aidan Stolar, and Elizabeth and Georgia Henches. Additionally, Elizabeth was blessed with many wonderful nieces, nephews and friends.
Before retirement, Elizabeth was a secretary for the Boy Scouts of America, and then an office manager at Deloitte & Touche. Later she worked as an independent bookkeeper.
In 2002 she moved to Milford, Pennsylvania and began yet another stage in her life. She was a member of a variety of local organizations, including The Golden Agers Club, The Red Hat Society, and The Irish-American Club. She also volunteered at the Milford Public Library, the local Urgent Care, and the Ecumenical Food Pantry.
Elizabeth most enjoyed spending time surrounded by her loving family, especially hosting Christmas gatherings at her home. She was a voracious book reader and Sunday New York Times crossword puzzler (always completed in ink). She loved traveling, attended the ballet, followed Indy Car racing, played golf, piano, and cards, and loved the Grateful Dead.
Elizabeth was an awesome grandmother and a vibrant, active woman. Dynamic, thoughtful and fiercely independent, she loved her family deeply. Traveling and driving into her nineties, she was living proof that age is just a number. She was the matriarch of the Murray family, our irreplaceable queen, always putting everyone else before herself, even in her final days.
Elizabeth was blessed with a loving and committed family, close friends, a long life full of love, more second acts than Broadway, and in the end, an easy passing. She spanned the twentieth century and made it well into the twenty-first, remaining sharp, relevant and beloved. Spouse, children, grandchildren, great grandchildren and friends are so very honored to have shared her incredible life.
Friends may call at Stroyan Funeral Home, 405 West Harford St., Milford, PA on Wednesday, October 9, 2019 from 2 to 4 and 7 to 9 PM. A Mass of Christian Burial will be celebrated at St. Patrick's Church, 111 East High St., Milford, PA on Thursday, October 10, 2019 at 10 AM with Msgr. Carroll officiating. Burial will follow in Maryrest Cemetery, Mahwah, NJ.
Memorial donations may be made to Karen Ann Quinlan Hospice, Newton, NJ (www.karenannquinlanhospice.org).
Arrangements by Stroyan Funeral Home, Milford, PA (www.stroyanfuneralhome.com).