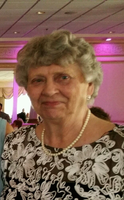 Helen Meta Umstead
Helen Meta Umstead, 84, of Lords Valley, PA died peacefully on September 30, 2019 at home. She was predeceased by her husband, William L. Umstead.
The daughter of the late Charles and Anna (Schmonsees) Hagenah, Helen was born on April 24, 1935 and raised in Hempstead, NY.
Helen was a member of the Holy Trinity Lutheran Church, Dingmans Ferry, the Milford Valley Quilters Guild, an Election Day volunteer and a past EMT for the Hemlock Farms Volunteer Fire Department. Helen enjoyed quilting, painting and playing bridge.
She is survived by her daughter, Karen Giere and husband Joseph; sons, John DeGrauw and Rosemary Andolina, William DeGrauw and wife Erin and Robert DeGrauw; five grandchildren, Brendan McCauley, Christian McCauley, Kerry McCauley, Anna DeGrauw and Cora DeGrauw; brother, Charles Hagenah and wife, Susan; nieces, Krista Diamond and husband Al, Petra Hagenah, and nephew Alex Hagenah. Helen was predeceased by her son James DeGrauw and first husband Robert DeGrauw
Friends may call at Stroyan Funeral Home, 405 W. Harford St., Milford, PA on Thursday, October 3, 2019 from 2 to 4 and 6 to 8 PM.
Funeral service will be at the funeral home on Friday, October 4, 2019 at 11 a.m., with Rev. Niels Nielsen and Rev. Thomas Major officiating. Burial will follow at the Milford Cemetery, Dingman Township, PA.
Flowers are welcome or memorial donations may be made to the Pike County Area Agency on the Aging, 150 Pike County Blvd, Hawley, PA 18428 where Helen gave lectures on Quilting.
Arrangements by Stroyan Funeral Home, 405 West Harford St., Milford, PA (www.stroyanfuneralhome.com).