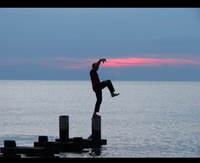 Edward Gratcofsky
Edward Gratcofsky, Jr., 42, of Dingmans Ferry, PA passed away on Monday, September 16, 2019. Eddie worked as a Field Foreman for Safety Scaffolds, in Branchville NJ for most of his life.
Eddie was a wonderful father, friend, and gentleman to all that knew him. He was heavily involved in multiple area youth sports organizations as a coach and mentor to many. Eddie spent most of his time volunteering anywhere he could offer one of his many talents. He loved sports, especially soccer and was an amazing athlete with too many talents to note. A hardworking, loving man full of life, laughter, and passion, he made an impact on every life he touched. His greatest gift was his ability to see the good in everyone, a true giver with lots of love to share.
The son of Edward and Diane (Cunningham) Gratcofsky, Sr., he was born on February 22, 1977, in Great Neck, New York. He was married to Rebecca (Radcliffe) Gratcofsky.
Edward leaves behind his wife, Rebecca Gratcofsky of Dingmans Ferry, PA; children, Mason and Ellie at home. His parents, Diane and Edward Gratcofsky, Sr. of Dingmans Ferry, PA; brothers, Michael Gratcofsky and his wife Catherine of Sandyston, NJ and Joseph Gratcofsky and his wife Nicole of Clifton, NJ; maternal grandparents, Robert and Connie Cunningham of Schnecksville, PA; mother-in-law, Elizabeth Radcliffe of Dingmans Ferry, PA; and many aunts; uncles; cousins and nieces and nephews.
Visitation will be held at 10 AM on Saturday, September 28, 2019, at Holy Trinity Lutheran Church, 103 Delaware Crest, Dingmans Ferry, PA 18328, with a service to follow at 11 am with Reverend Niels Nielsen officiating.
Memorial donations may be made in Eddie's honor to: LS&ESSI. Lightning Strike and Electric Shock Survivors International, Inc. P.O. Box 1156 Jacksonville, North Carolina 28541.
Arrangements were made by Stroyan Funeral Home, 405 W. Harford St., Milford, PA 1837 (www.stroyanfuneralhome.com).