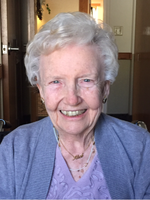 Alice Smith
Alice Florence (Sheldon) Smith passed away peacefully on Tuesday, September 17, 2019, at 92 years old. She was born in the Bronx, New York, on November 7, 1926, moved to Rockaway, NJ, then Newton, NJ, and finally to Milford, PA where she lived with her husband of 69 years, Raymond Francis Smith.
She was the daughter of the late John and Charlotte Sheldon and sister of the late Arthur Sheldon. She received her Bachelor's degree from Hunter College in New York City. She worked as secretary for the Rockaway Borough Planning Board and later for Pettit Paint.
She is survived by her husband Raymond Smith, her five children: Nancy Motyka and her husband Scott of Charleston, SC, Laura Stathis of Sinking Spring, PA, Theresa Webb of Shohola, PA, Raymond Smith, Jr., of Rockaway, NJ, and Thomas Smith and his wife, Ruth Ann of Waxhaw, NC. Alice also leaves behind nine grandchildren and four great grandchildren, as well as three nephews and two nieces.
Alice will be remembered most for her love of family, laughter, and above all else, Ray. Alice and Ray loved to dance and continued to enjoy this throughout their years together.
The family will receive friends at Stroyan Funeral Home, 405 W. Harford Street, Milford, PA, 18337 on Monday, September 23 from 11 am to 12:30 pm, funeral services at 12:30pm, followed by burial at St Joseph's Cemetery, Route 206, Newton, NJ 07860.
Arrangements made by Stroyan Funeral Home, 405 W. Harford St., Milford, PA (www.stroyanfuneralhome.com).