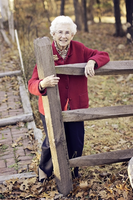 Pauline Lentz
Pauline Lentz, 92, Formerly from Dingmans Ferry, PA passed away on Tuesday, September 10, 2019 at Grace Park Senior Living, Stroudsburg, PA. She was a member of the Tilgman Angle Smith American Legion Post # 851 Auxiliary, Dingmans Ferry, PA.
The daughter of the late Irvin and Emma (Firestine) Smith, she was born on December 19, 1926 in Fredericksburg, PA. She was married to the late Caleb Lentz on November 2, 1945.
Pauline leaves behind five children she raised: Carolyn Miller and her husband Joseph of Whately, MA;, Joan Halbach and her husband Ken of The Villages, FL; Charles Lentz and his wife, Chris of Bethlehem, PA; Robert Smith and his wife Lisa of Sparrowbush, NY; Joseph Lentz and his wife Dina of East Stroudsburg, PA; six grandchildren, James Lentz and his wife Sam, Joshua Lentz, Brittany Smith, Brenton Smith and his wife Crystal, Chase Lentz and Wyatt Lentz and one great-grandson, Austin Lentz . Pauline was one of 18 children and is survived by her brother Russell Smith and sisters, Ella Belleman and Mary Young.
Friends may call at Stroyan Funeral Home, 405 West Harford St, Milford, PA on Monday, September 16, 2019 from 12 to 2 PM. Funeral services will be held at the funeral home on Monday, September 16, 2019 at 2 PM with the Rev. Keith Raser officiating. Burial will follow in Delaware Cemetery, Dingmans Ferry, PA.
In lieu of flowers memorial donations may be made to Pocono Wildlife Rehabilitation Center, 1161 Cherry Dr., Stroudsburg, PA 18360.
Arrangements made by Stroyan Funeral Home, 405 West Harford St., Milford, PA (www.stroyanfuneralhome.com).