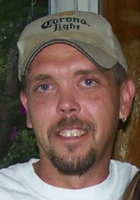 Richard A. Jerger
Richard A. Jerger, "Rick", 47, of Dingmans Ferry, PA passed away on August 26, 2019 at home surrounded by family.
The son of Richard Jerger (and wife Beverly) and Charmaine Moran (and husband John), he was born April 24, 1972 in Newton, NJ. He was married to Theresa (Celi) Jerger. He was employed by Matrix Excavating, Hamburg, NJ.
Rick leaves behind his wife, Terri; son, Ricky; two step sons, Scott Bosma and Shane Bosma; two grandsons; brother, Edward Horn and a sister Tammy Fabela.
Cremation will take place at the convenience of the family. A celebration of Rick's life will be held at the American Legion 139, 103 County Road 2001, Milford, PA 18337 on Sunday September 8, 2019 from 1-4 pm.
Arrangements by Stroyan Funeral Home, 405 West Harford St., Milford, PA (www.stroyanfuneralhome.com).